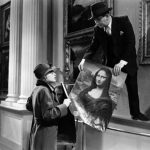 Recently I had been interviewed by the Wall Street Journal. The topic was Mysterious Disappearance of art work in a gallery. The reporter was investigating if a standard Art Gallery/ Art Dealer Insurance policy would cover this. I delved into the policy form and began to realize there was no coverage for mysterious disappearance and work stolen by employees.
I do recall a story of a Gallery, that gave a print to an employee to deliver a few blocks away. Neither the trusted employee nor the print ever arrived to the destination. When the gallerist looked to his insurance policy for coverage, all he found was the exclusion, hence not covered for this type of loss, the same exclusion was found in the collector's policy. It cost the Gallery 100's of thousands of dollars, which he had to pay to the collector. Employee Dishonesty Bond is the correct form to protect from these types of losses.
As I ponder more about this subject, I realize the Art world, conveys millions of dollars without properly risk managing employee dishonesty. It may be the bookkeeper who is wiring money to a fake account, writing forged checks, or the salesperson selling off inventory, unbeknownst to the owner. The exposure is real, buy a Bond.
Collectors should start asking to see if the person handling the Art has a fiduciary policy. This protects the collector from misappropriation of funds earmarked for purchase in his behalf. Lawyers cannot touch the escrow accounts; Insurance agents have trust accounts for policy premiums, but for Art dealers there are no laws just pure exposure to you losing all.
Follow the link to the Crime bond application and make sure to ask for the loss of stock, forgery and other crimes by the employees.
William Fleischer CIC
Bernard Fleischer & Sons / BF Bond / Art Insurance Now