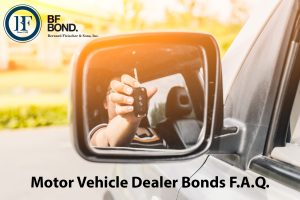 Q. What Is a Motor Vehicle Dealer Bond?
A. It is a guarantee that motor vehicle dealers will follow the regulations of their state, and is usually required to obtain a dealer license.
Q. How much does a motor vehicle dealer bond cost?
A. The cost is a percentage of the bond amount. You can call us at 800.921.1008 for a free estimate. If you require an exact price, please complete a motor vehicle dealer bond application and receive the free bond quote.
Q. Can I get a motor vehicle dealer bond with bad credit?
Yes. We have great high risk markets and can get you approved for a new & used motor vehicle dealer bond regardless of bad credit. To learn more, visit our bad credit bond general information page and complete the EZ application.
Q. How to Get a Bad Credit Motor Vehicle Dealer Surety Bond.
A. We have access to many exclusive programs, allowing those with bad credit to get approved. However, the price will be considerably higher compared to standard markets.
Q. How long does the application take?
A. We approve motor vehicle dealer bonds instantly online. The application process takes just minutes. You can get a no obligation online quote on our website at any time.
Q. My friend is an auto dealer. Will my motor vehicle dealer bond cost the same as theirs?
A. Possibly, but the rates vary based on the estimated risk and the ability to repay claims. As a result, your pricing could be lower or higher depending on your risk compared to the other dealer.
Q. How does a motor vehicle dealer bond protect my dealership?
A. It doesn't. Motor vehicle dealer bonds protect the public from auto dealer fraud. A claim on your bond must be paid back by the dealer to the bonding company. You need to obtain insurance to protect your dealership.
Q. Do I need a motor vehicle dealer bond for selling mobile homes?
A. Very likely, many states require you to obtain motor vehicle dealer bonds to sell various types of mobile homes, including RV's, manufactured homes and modular homes. However, every state has its own requirements.
Q. Do I need new AND used motor vehicle dealer bonds for selling new & used vehicles?
A. Usually no, one motor vehicle dealer surety bond generally covers both new and used vehicle dealers. However, motor vehicle dealer bond requirements vary by state.
Q. How is a motor vehicle dealer bond different from car dealer insurance?
A. Bonds are a form of credit to motor vehicle dealers and assurance for the public. They guarantee that a dealer will not break the state laws. Should they break laws and cause a claim on the bond, the motor vehicle dealer is responsible for any damages. Motor vehicle dealer insurance protects the dealer from loss, not the public.
Q. How much does a Motor Vehicle Dealer bond cost?
A. Costs vary by bond size, applicant, bond form, state and the bond agency chosen. BF Bond only reviews the personal credit of the business owners. Nearly all other bond agencies will review business and personal financials, experience, bank balances and years in operation, in addition to personal credit. Visit our website and get an estimate, or apply to get approved instantly online.
Get the Motor Vehicle Dealer Bond You Require.
A motor vehicle dealer bond allows you to sell vehicles to the public and other dealers/wholesalers. A wholesale dealer bond only allows you to sell vehicles to other dealers and wholesalers.
A motor vehicle dealer bond applies to retail and wholesale dealers, and only one bond is needed to sell new and used vehicles. Whichever type you need, you can conveniently apply online for all motor vehicle dealer bonds.
For more information contact Jose Ward at 800-925-1008, email JW@bfbond.com or visit us at www.BFBond.com