Taxi Broker Bond
A taxi broker bond from www.bfbond.com is a form of security required by taxi cab owners who wish to drive within a particularly community or county. This is in addition to the regular yearly license fees that a taxi cab owner or operator may have to provide to the civic officials. It is also different from the regular liability insurance all commercial vehicles must have in order to operate.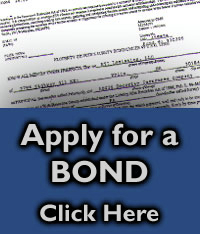 These surety bonds offer a special liability to the city and county officials who issue the licenses, so no one can claim that their actions in issuing a taxi cab license have done them any harm. A taxi broker bond indemnifies these civic officials in the case of any lawsuit or liability claims that may arise from the operation of a particular taxi cab.
It may seem a little unusual to have taxi drivers and owners singled out for special treatment, and require them to post a bond just to be in business, but the truth is that a lot of industries and professions have similar requirements. In the city of Springfield, Missouri here is a partial list of businesses requiring a surety bond to open and operate a business within their jurisdiction:
auction houses
automobile auctions
brokers dealers and repossession agents
electrical contractors
plumbing contractors
mechanical / heating and air conditioning contractors
coupon sales
private detectives
refuse disposal areas
gas fitters
house movers
locksmiths
transient magazine and book solicitors
transient photographers
professional solicitors
tree surgeons
pest control services
and of course taxi cab companies
Taxi owners and operators are not alone in having to operate under the watchful eye of a bonding company. Most professional services are regulated and taxed accordingly to pay for this regulation so municipality is protected from future liability claims. These types of bonds also serve another purpose in maintaining a level of service within an industry and ensuring that the operators provide their services in accordance with the law and acceptable industry standards.
A taxi broker bond from www.bfbond.com makes the owner or operator of a taxi cab not only liable for any claims against them, but also makes them responsible to the communities they serve. It also doesn't hurt that, in order to maintain their license, these operators have to keep up with the conditions of these surety bonds. These important steps improve the safety, comfort, and security of their passengers.
---
Street Obstruction Bond | Surety Bonds | Taxi Broker Bond | Third Party Administrator | Title for Bond
Mortgage Broker Bond | Motor Vehicle Dealer Bond | Probate Bonds | Special Events Insurance | Compliance Bond
Dishonesty Bond | Fidelity Bonds | Fiduciary Bonds | Guardian Bonds | Workers Compensation Quote
Home | Site Map